About Us
Past, Present, and Future!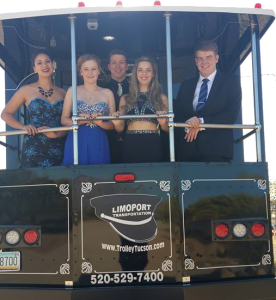 ---
Our mother corporation, Christopher Robert Corporation was opened Oct 19, 1984. In 1992 real estate broker, Dale Hulvey, made a decision to add a limousine for customer showings. Shortly thereafter, realizing the value of a limousine service, Limoport Arizona was formed as a division of Christopher Robert Corporation. On November 30th, 2005 the companies were separated, forming Limoport Transportation, LLC at which time Barbara Lovett became full time dispatcher/controller. In November of 2012 all of our limousines were vandalized. Someone put anti-freeze in the fuel tanks which froze up some of the engines and damaged others. That day, all units were reserved and rolling and the next day we were placing a major insurance claim with Lancer Insurance. Unfortunately, Lancer Insurance only paid some repair bills but denied others, as well as denying the payment for loss of income. Our finance company, Titus Leasing, fought for us and believed that Lancer Insurance should have payed all loss and saved our corporation. As a result of this tremendous loss, in 2013, we sold our entire fleet for debt owed and lost all equity.
In that same year, we started over and began buying new sedans for our airport clients and those who needed hourly transportation to events or medical appointments. In August, 2014 we bought a black 12 passenger Mercedes Benz Sprinter Limousine. On September 20th, 2014 Barbara and Dale were married and made great use of this limousine. Today, when you call Limoport Transportation, LLC you speak directly to Barbara. Early 2015 we bought a new black sedan and new black SUV to better serve our clientele.
June, 2015 we created Trolley Tucson as a division of Limoport Transportation, LLC, just after we placed the order for the Limousine Trolley to be built. (Custom built Trolley Limousines' take months to be built.)   January, 2016 we added "Tucson's Only" custom made black Trolley Limousine which we designed and had built from the frame up on a Ford chassis. Our new Trolley Limousine rents hourly or by the seat for "Around Tucson" events or short trips / tours. December 2016 we were accepted as a vendor for "Winterhaven Festival of Lights" and have proudly operated our Trolley Limousine, every December, for this great Tucson Tradition. January 2019 planning begun for doing Downtown Tucson Trolley Historical Tours. We expect to launch this new event June 1st, 2019.
Our latest additions have been our 2016 Chrysler 300 sedan, our 2018 Chrysler 300 sedan, our Trolley Wagon and our Wheel Chair Ability Van. Trolley Wagon was added November 2018 to service more customers during "Winterhaven Festival of Lights" and other Tucson events where an "In Town Event Trolley Wagon" is useful to shuttle event customers. Our 2018 Dodge Ability Van become part of our fleet January 2019 to serve those families that need non medical private wheel chair service.
Wow, who knows where we are going from here or what sedans, suv's, limousines, wagons, trolleys, we will add going forward.
---
Zero-tolerance Policy
DRUG, SMOKING, & ALCOHOL POLICY – No chauffeur employed by Limoport Transportation, LLC or Trolley Tucson (division of Limoport Transportation, LLC) is allowed to consume alcohol (in preceding 48 hours) of accepting a transportation request and cannot smoke any substance including cigarettes, cigars, or vape units during employment with our companies. Furthermore, chauffeur cannot use any illegal drugs, or marijuana (illegal or with medical card) at any time during employment with our companies. All chauffeurs are subject to testing for above mentioned, at any time, as requested by employer. Any customer complaint received by administration will activate requirement for immediate testing. Refusal to take such testing creates immediate dismissal. Concerned customers may send information pertaining to any of the above to Barbara@Limoport.com, or text message to 520-529-7400 or mail to Limoport Transportation, LLC – 231 W. Giaconda Way – Suite 133 – Tucson, AZ. 85704.