Tombstone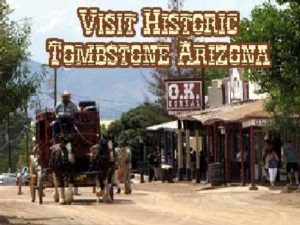 ---
Tombstone Trip – "Buy-a-Seat" $89 – Select Tour Below
"A Town too Tough to Die"
"Buy-a-Seat" information – Catch the Trolley Limousine at Mercado Annex 267 South Avenida del Convento, Tucson, AZ 85745 at 11:00 am on the scheduled date of Tour for your "Luxury Ride" to "A Town too Tough to Die". Recommend you arrive by 10:30 am. Trolley Limousine will just be returning from the "Tucson Trolley Tour" which is the morning Tour that would have began at 8:00 am. Consider registering and taking both Tours for a complete day of FUN! YES, you can bring snacks, food, etc. No alcohol is allowed when there is anyone under 21 years of age on board. (Check out Private Groups below). We furnish bottled water for everyone. It is about a 1.5 hour ride to Tombstone. Then it is time to walk around this amazing Western Town taking in the sights or go for a nice lunch at one of their dine-in cafes.
Tombstone is a town in southeastern Arizona, known for its Wild West history. Exhibits at the Tombstone Courthouse State Historic Park include a replica gallows. On historic Allen Street, the O.K. Corral outdoor theater re-enacts an 1881 cowboy gunfight. Resident ghosts are said to haunt the bullet-riddled Bird Cage Theatre. Outlaws are among the local townsfolk buried at the 1878 Boothill Cemetery. To learn more about Tombstone click on this link – https://tombstoneweb.com/ – OR – https://tombstonechamber.com/
$89 per person for Trolley Limousine Transportation – bring money for anything else you desire including, lunch, entertainment, souvenirs, and more.
At 4:30 pm it is time to load up for your "Luxury Ride" back to Tucson arriving back at the Mercado Annex at approximately 6:00 pm. For us to sell this Tour as "Buy-a-Seat" and not charge overtime it is important for us to depart Tombstone on time.
"Private Group Information" – You tell us where you want your pick-up to be, what start and end time you desire, etc. Rate is $240 per hour, including gratuity. We are more than happy to set your Tour up as a "Buy-a-Seat" so you can have members of your group register on there own and pay on their individual credit cards. Caution – when all 24 seats do not sell you pay difference! As a Private Group with nobody on board under 21 years of age you can bring Alcohol. You may also choose to have us route through Sonoita for a Wine Tasting Stop. Many group coordinators plan there private event like 3 months in advance and then have us sell their remaining seats for the last 30 days prior to Tour.
Call our dispatcher to ask questions, 520-529-7400.
PLANNING TRIPS IN 2022 – REQUEST YOUR DATE!